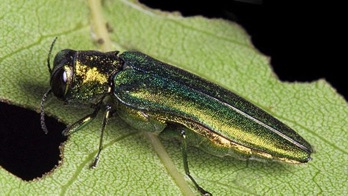 WHY PROTECTING YOUR ASH TREES IS SO IMPORTANT
The deadly Emerald Ash Borer (EAB) was first detected in Boulder, Colorado in 2013 and has quickly spread to the communities of Longmont, Lafayette, and Lyons. Unfortunately EAB is a non-native pest that has no natural predators to help keep it in check. EAB only attacks Ash trees in the genus Fraxinus (so Mountain Ash are not susceptible to EAB) Humans can unknowingly transport EAB through firewood or the moving of live Ash trees. Adult beetles tunnel under the bark of Ash trees, girdling the tree and preventing water and other nutrients from being distributed.
By the time symptoms are first noticed, even previously healthy trees die within 2-4 years.
To read more about the Emerald Ash Borer, infestation symptoms and treatment options, please visit this link.
There are a couple of treatment options available for managing EAB through the use of insecticides which need to be applied on an annual or biannual basis to maintain control.
We are currently encouraging all of our customers to immediately start a preventative EAB care program.
Especially those customers with High Value Ash Trees or those who reside in areas close to the infested municipalities of
Fort Collins, Loveland,Longmont, Berthoud, Lyons, Lafayette, & Boulder.
In an effort to mitigate the harm befalling bees and other pollinators, we at HLS Colorado are encouraging TRUNK INJECTIONS to protect against EAB and other boring insect infestations. Our trunk injection programs are environmentally safe as all chemicals are injected directly into the trunk of the tree, where the insecticide is taken up by the vascular system of the tree and distributed throughout.
The effects of each treatment lasts for 2 years and also protects against infestations from Lilac Ash Borer (a common and harmful pest in Northern Colorado, which tunnels into the trunk and lower branches of trees-girdling the vasucular system and impeding nutrient flow, weakening the tree, and causing irreperable harm),
AND the Ash Bark Beetle (which contributes to limb dieback and canopy thinning).
To get additional information on our Tree Injection Program for EAB and other Borers
please call 970-223-4772 or message us at hillslandscape@comcast.net.
Click on the button below for additional information and resources on the Emerald Ash Borer In Colroado.
COMMERCIAL APPLICATORS ARE INSURED AND LICENSED
BY THE COLORADO DEPARTMENT OF AGRICULTURE
INFORMATION AND TREATMENT OPTIONS
TRUNK INJECTIONS FOR EMERALD ASH BORER
Click on the video screen below to see an informational video on our Emerald Ash Borer Trunk Injections
Things to consider when choosing a service provider:
*The # of drill sites matters! The vascular structure of Ash trees is slender and vertical. Drill sites should be placed no more than 6 inches apart to allow for equal distribution of insecticide, and should be drilled within 6 inches of the ground if possible.
*Trees with a circumference of 90" and larger (at chest height) require almost 2x's the amount of chemicals...Due to the exponential size of a tree's canopy once they grow over 90". Proper chemical dosages are needed to make sure insecticide is dispersed
throughout the entirety of your tree's structure.
*Failure to use proper chemical dosages contributes to the development of insect immunity among harmful and deadly insect populations.
Hiring a reputable applicator, vested in doing a job with integrity, backed by a factual skill set matters!
Our applicators have been working in the industry since 1980